How the DLP Stakhanovets works in the cloud
To start working with DLP-system Stakhanovets, you need to use the Remote Desktop Connection program, included in any Windows version.
In addition, you can connect to a remote desktop using any operating system and any device, including mobile.
Stakhanovets as a DLP-system:
preventing leakage of confidential information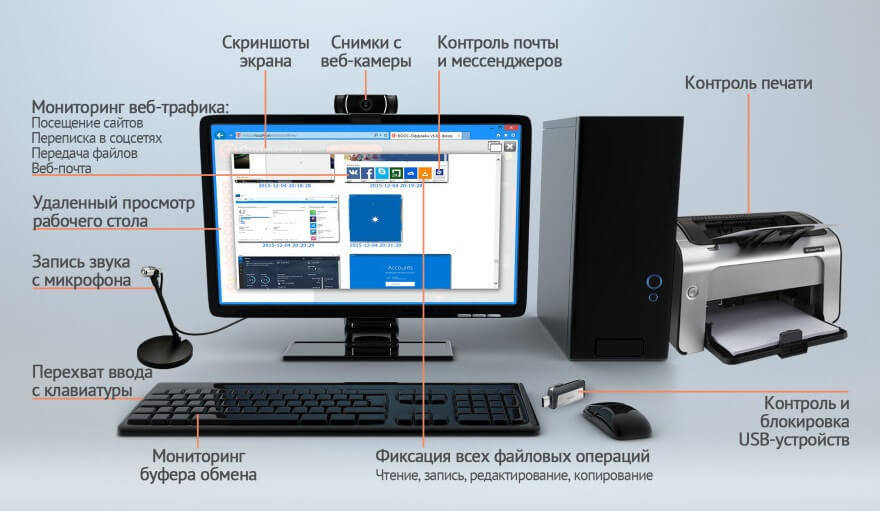 For every company protection of commercial information is a number one priority. The consequences of leaking a trade secret or other important information can cause a great loss to an organization.
DLP systems help to prevent such situations. They create a protective digital barrier that analyzes all outgoing and incoming information. With it, you can track suspicious transactions and identify leaks of sensitive data.
Based on the experience of leading global companies, we can confidently
to say that using of DLP-systems can help:
Ensure information security of the business.
Detect breaches of privacy.
Implement a system of compliance with corporate secrecy among staff.
Stakhanovets is not just a powerful DLP-system. Compared to classic DLP-solutions, Stakhanovets has a wider range of functionality:
| | | |
| --- | --- | --- |
| Opportunities | Classic DLP-system | Stakhanovets |
| Interception of data transmitted over the network | Yes | no |
| Interception of data on users' PC | some systems | Yes |
| The ban on the implementation of various actions with documents on the user's PC based on the content of documents | some systems | Yes |
| Customizable system for analyzing the collected information | by data patterns | by flexible rules |
| Monitor all suspicious employee actions | no | Yes |
| Desktop Control | no | Yes |
| User action monitoring | no | Yes |
| Monitoring of correspondence and voice conversations | no | Yes |
| Control of the presence and activity of employees in the workplace | no | Yes |
| Management of access rights for supervising employees | no | Yes |
| Ability to grant an employee the right to independently enable and disable self-monitoring | no | Yes |
| Controlling the removal or replacement of PC-components to prevent theft | no | Yes |
| Control of mobile devices | no | Yes |
Additional information
| | |
| --- | --- |
| Presentation: DLP-system Stakhanovets | pdf |
| Presentation: Monitoring and control technologies | pdf |