Home

/

Kubernetes as a Service (KaaS)
Kubernetes as a Service (KaaS)
Secure and convenient management of Kubernetes clusters in Cloud4Y infrastructure. The solution automates the processes of managing, scaling, modifying, updating and deleting containers.
Managed Kubernetes to Orchestrate your Containers
Cloud4Y makes running Kubernetes in the cloud easier and more affordable.

We offer a reliable and scalable virtual infrastructure compatible with Kubernetes. We use the Container Service Extension (CSE) tool to deploy and manage Kubernetes clusters.
Creating test environments
Applications migration
Running containers with microservices
Launching applications at any scale
Service
Kubernetes in the cloud
Cost
from $9,86 per month
How Kubernetes-as-a-service works
Kubernetes-as-a-Service is a cloud-based approach to container orchestration. The solution automates the management, scaling, changing, updating and deleting of Kubernetes containers. It makes it easy to deploy an automation platform, create and work in Kubernetes clusters, and conduct development in a robust computing environment. You can store Docker images along with your infrastructure, guaranteeing high image download speeds and avoiding external traffic costs..
k8s architecture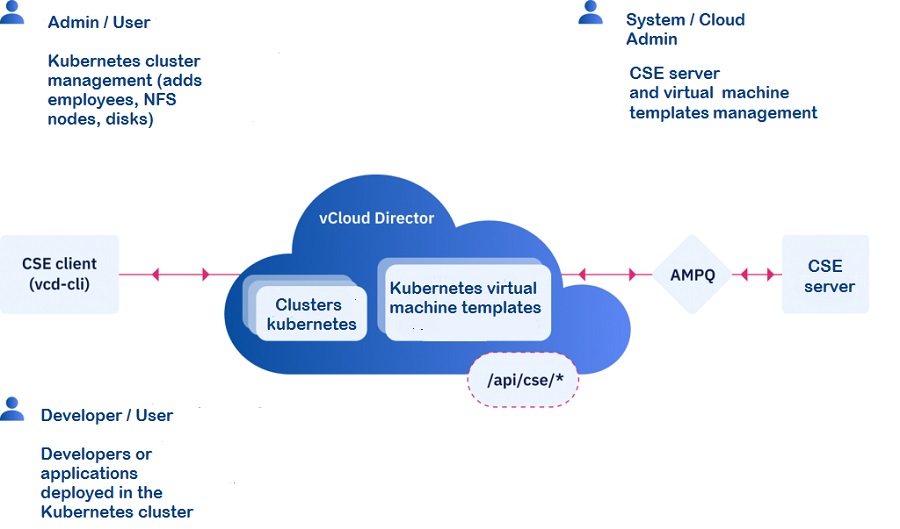 Kubernetes-as-a-Service (KaaS) is powered by Container Service Extension (CSE) and supports core containerization technologies, including Docker. CSE implements the KaaS solution in the cloud management control panel through the creation of virtual machine templates and allows organizations to deploy fully-fledged Kubernetes clusters for containerized applications.
Cloud4Y's container infrastructure is organized to allow for flexible customization. The solution requires no in-depth knowledge - easily automate application lifecycle management (from deployment to shutdown). The solution reduces Kubernetes deployment time from days to 15 minutes. Developers can focus on writing code without worrying about the system the application will eventually run on. High performance and efficient traffic distribution speed up their work.
Kubernetes in Cloud4Y cloud infrastructure
We deploy and maintain all of the components required for Kubernetes to work. We will take care of the infrastructure so that you will be free to deal with applications and other workloads.
The ever-growing capabilities of the Kubernetes system
Flexible cluster configuration options
Optimization of CI/CD processes for creating and managing test environments
Access to popular systems (DBMS, CMS) via Helm and Kubeapps and Docker Hub directories
Node replication in three availability zones
The option to create a private cluster in an isolated environment
Easily migrate applications from local computers to the cloud
Integration with other Cloud4Y solutions
Why trust Cloud4Y
13 years in cloud computing
Since 2009 the company has been successfully operating in the Russian and international cloud services markets.
Reliable infrastructure
4 TIER III data centers, Enterprise level hardware and software: HP, Cisco, Juniper, NetApp, VMware, Veeam, Microsoft, etc.
SLA 99.982%
Optical ring, MetroCluster and redundancy mechanisms guarantee fault tolerance of services up to SLA 99.99%.
Transparent Billing Options
Hourly billing and pay-as-you-go allow you to pay only for the resources consumed.
Geo-Distributed Backup
Automatic backup (14 restore points) in a separate remote data center.
Flexible scalability
You can add and reduce the amount of resources without need to contact technical support service.
24/7 technical support
If any technical issue occurs, our team of support experts is available round-the-clock, response time is 10 minutes.
Partner Program
Earn up to 35% of your annual contract. White Label is available.
Send a request
Let our managers know if you are interested in a solution or a service. They will contacts you within 2 hours.
You also can request a
free trial access here