GPU Render Farm
Cloud4Y provides advanced render farm for Image Processing and 3D Visual Effects, AI, Deep/Machine Learning.
NVIDIA Tesla M40 GPU Render Farm
Video rendering, HPC, Deep Learning are time and compute-intensive. These tasks require substantial investments on hardware/software along with IT team to maintain the infrastructure. GPU server is an effective solution for companies that are willing to save money on building their own IT infrastructure.
Cloud4Y render farm (GPU cloud) consists of Tesla M40 high-performance graphics accelerators. This server solution is targeted at Artificial Intelligence and other types of computing including Deep Learning training, Machine Learning, training Neural Networks.
Render farm configuration (NVIDIA GPU Cloud): 8 X NVIDIA GRID Tesla M40 GPUs
8 X 12GB (96GB) RAM video memory
Intel Xeon processor E5-2699 V4, CPU 44 cores, 128GB RAM.
NVIDIA Tesla M40 vs GeForce GTX 1080 Ti
Options
M40
1080 Ti
Use
Workstation --> server

workstation
Continued operation 24х7
Yes
No
Function
Deep learning, machine learning,
neural network training, AI
card for gaming

Support for virtualization environment

Yes (supports GPUDirect)
No

Scalable performance
Yes (supports GPUDirect)
No

Fault-tolerant system operation
Yes (Cloud4Y infrastructure
SLA 99.982%)
No

GPU server rental service

Take advantages of advanced, powerful, affordable render farm GPU for your needs
The most significant advantage of any GPU render farm is its exceptionally high rendering performance. The more processing power you can apply at a rendering task the quicker that task can be completed. The performance of the system allows to offer the end user a high-quality product faster.
Cloud4Y offers latest generation graphic cards from Nvidia. Tesla M40 is the fastest accelerator for deep learning or rendering large collections of objects. With our GPU Accelerated Virtual Desktop solution your applications and workstations will gain tremendous performance.

Please note! Your software must support a specific graphics card to perform the required tasks. Applications that only access the graphics card used by default on the system will not be compatible with vGPUs. We recommend using software that can access graphics cards from those in the operating system.

GPU Rendering with Cloud4Y solutions

As there is growing demand for high quality content, designers and artists need advanced technologies that can provide photorealistic rendering of cinematic-quality characters, objects and environments. The CPU rendering cannot provide the desired speed, since it can take hours to process a single image.
We give artists and creative studios access to the best compute resources for rendering visual effects, animation, and more. With cloud GPUs, rendering will be fast and easy. Hollywood animation studios and film companies use similar technologies.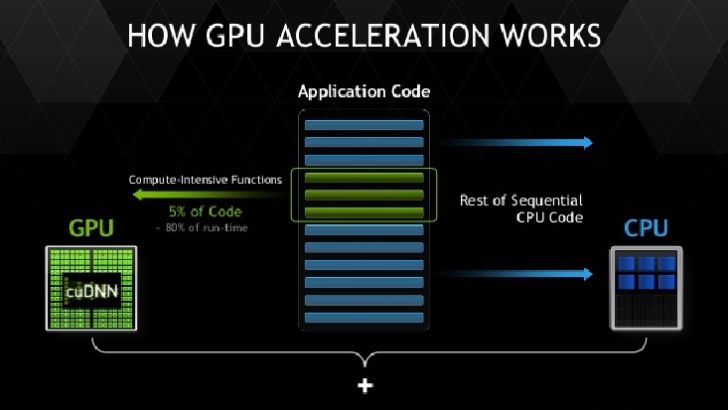 GPU-accelerated Cloud Server for Machine Learning

Tesla M40 is considered one of the most powerful accelerators in the world for deep training of neural networks. The video card was created specifically for companies developing web services with machine learning support. It is specifically developed for continuous 24/7 operation.
Training of artificial intelligence and neural networks, analysis of data lakes typically take several days to weeks. This leads data scientists to choose between model accuracy and training time.
Virtual GPU server from Cloud4Y allows to reduce training time by several days or even weeks. Tesla M40 GPU accelerator is optimized for such tasks. it is eight times faster to train neural networks than the CPU (1.2 days to train a typical AlexNet network).
Render farm with high performance GPU allows scientific institutions, banks and other enterprises dealing with Big Data to process petabytes of data faster than ever.
GPU Render Farm Benefits
Service availability 99.982%

Designed to accelerate Machine Learning Deep Learning, AI workflows

You use the amount of resources you need to solve the task at a specific period

Payment for actually consumed resources
Powerful virtual workstation accessible on any PC or laptop

Simultaneous work with several AI models

Why trust Cloud4Y
14 years in cloud computing
Since 2009 the company successfully operates on the international cloud market.
Reliable infrastructure
4 TIER III data centers, Enterprise level hardware, and software: HP, Cisco, Juniper, NetApp, VMware, Veeam, Microsoft, etc.
SLA 99.982%
Optical ring, MetroCluster, and redundancy mechanisms guarantee fault tolerance of services up to SLA 99.99%.
Transparent Billing Options
Hourly billing and pay-as-you-go allow you to pay only for the resources consumed.
Geo-Distributed Backup
Automatic backup (14 restore points) in a separate remote data center.
Flexible scalability
You can add and reduce the amount of resources without the need to contact a technical support service.
24/7 technical support
If any technical issue occurs, our team of support experts is available round-the-clock, response time is 10 minutes.
Partner Program
Earn up to 35% of your annual contract. White Label is available.
Send a request
Let our managers know if you are interested in a solution or a service. They will contacts you within 2 hours.
You also can request a
free trial access here