Home

/

Migration to the Сloud with vCloud Availability
Migration to the Сloud with vCloud Availability
vCloud Availability enables businesses to quickly and securely migrate between clouds and on-premises, as well as quickly restore business processes in the event of disaster or force majeure in the primary data center.
vCloud Availability migration
vCloud Availability is VMware's powerful solution that enables flexible migration and disaster recovery between a customer site on the VMware vSphere/VMware vCloud Director platform and provider's cloud on the VMware vCloud Director platform.
With vCloud Availability, you can easily, cost-effectively and with maximum security migrate virtual machines from customer infrastructure to a provider's cloud environment and back again, creating backups in the cloud for quick recovery in case of disasters. Migration is accomplished with minimal downtime and no data loss.
VMware vCloud Availability addresses the following challenges:
Migrating virtual machines from on-premises to the cloud
Migrating virtual machines between vCloud Director sites
Migrating virtual machines from the cloud provider's site to the customer site
Automated replication to the cloud or customer premises with flexible RPO\RTO options
Migration management from a VMware vSphere interface
Replication and disaster recovery in the cloud
How to migrate to the cloud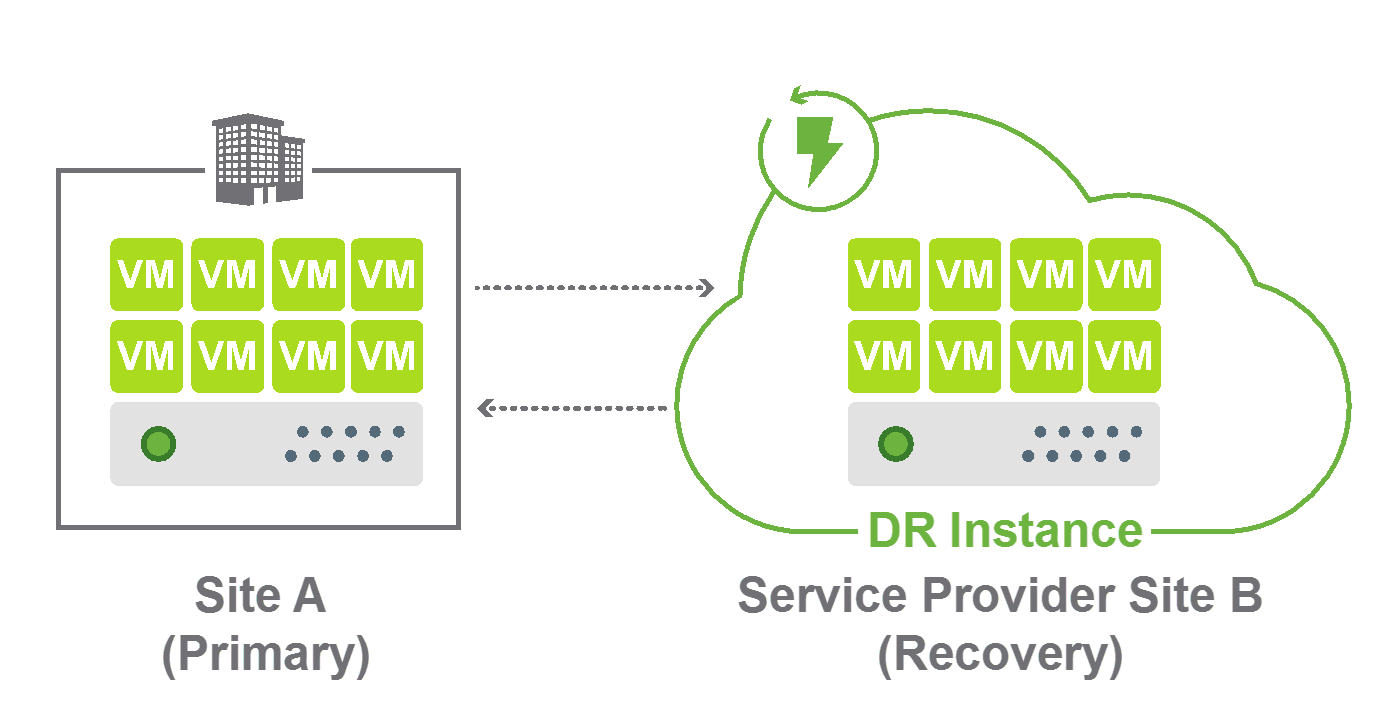 VMware vCloud Availability virtual machine migration is convenient, fast, and secure.
It is performed in a few steps:
1
Auditing the client's IT infrastructure, preparing a plan of cloud migration
2
Creating a disabled duplicate of a virtual machine
3
Synchronization of the changed data of the local VM with the copy (RPO from 5 min)
4
Shutting down virtual machine on the local server and launching machine in the cloud
Cold and hot migrations.
Benefits of cloud migration and disaster recovery
vCloud Availibality is VMware's proprietary mechanism
Fast and efficient
No capital outlay
Easy deployment and testing
Possibility to build multi-cloud solutions
Four Tier III datacenters
Expertise in selecting the best solution
DRP (disaster recovery plan)
Why trust Cloud4Y
14 years in cloud computing
Since 2009 the company successfully operates on Russian and international cloud markets.
Reliable infrastructure
4 TIER III data centers, Enterprise level hardware, and software: HP, Cisco, Juniper, NetApp, VMware, Veeam, Microsoft, etc.
SLA 99.982%
Optical ring, MetroCluster, and redundancy mechanisms guarantee fault tolerance of services up to SLA 99.99%.
Transparent Billing Options
Hourly billing and pay-as-you-go allow you to pay only for the resources consumed.
Geo-Distributed Backup
Automatic backup (14 restore points) in a separate remote data center.
Flexible scalability
You can add and reduce the amount of resources without the need to contact a technical support service.
24/7 technical support
If any technical issue occurs, our team of support experts is available round-the-clock, response time is 10 minutes.
Partner Program
Earn up to 35% of your annual contract. White Label is available.
FAQ
How to activate the service?
Please send a request to Cloud4Y managers, or submit a ticket to the technical support service to enable vCAV.
How is the service billed?
The cost depends on the number of machines that are reserved by the customer, as well as the total amount of exchange traffic between sites.
How to manage the service?
After activating the service, an additional management section appears in the vCloud Director interface.
What is a backup data center?
Backup and replication allow you to have a copy of a virtual machine (VM) ready to run. If the primary VM fails, you can immediately switch to a standby VM.
Can I use it as file storage and let other users access it?
No, you can't. Cloud Storage service is designed for this purpose.
How does vCloud Availability work and what software does it use?
It works via VMware vCloud Availability.
Can I create replication tasks myself?
Yes, you can. There are limits set by Cloud4Y experts. But if necessary or by customer request, we can increase the limit on the number of concurrent replication jobs.
Do we need any software?
On-Prem migration requires vCenter Server 6.* and vCAV appliance installed on the client's side.
In the case of Cloud-To-Cloud migration, vCloud Director must be installed on the client's side.
f you can't find an answer to your question, please visit our
knowledge base
, or ask our consultants via online chat, or send a request to technical support using the
ticket system
.
Send a request
Let our managers know if you are interested in a solution or a service. They will contacts you within 2 hours.
You also can request a
free trial access here