Encryption viruses, software malfunctions, physical damage, or loss of portable data carriers result in data loss. This means that business processes can be hindered or even stopped. In addition, the human factor must also be taken into account: an employee may intentionally or unintentionally delete some documents or entire databases. To avoid all this, it is important to make regular backups.
Technology has evolved from a focus on backup to a business continuity approach. And now backup and data replication are significant components of the whole trend, designed to ensure stable operation of all systems, without long-term downtime and with the ability to quickly switch to a working infrastructure in case of major failures.
One of the most famous tools used in this field is Veeam Backup & Replication. This product has a wide range of options to ensure a high level of IT infrastructure reliability by addressing the tasks of data backup and recovery.
Veeam Backup Essentials
As the requirements for system uptime increase, the amount of data that needs to be stored also increases. This can be a problem for IT infrastructure. The more a company depends on the reliability of its IT systems, the greater the losses it faces if even a portion of data is lost and downtime is required while systems are restored.
For a long time, the main way to protect data from damage or loss was to use data storage systems (DSS), which meant buying software licenses and employing IT specialists.
Now, infrastructure maintenance can be delegated to a cloud service provider, and a company just needs to follow a few basic rules to ensure that data is backed up on time, without excessive time and expense. What are these rules?
Automatic backups. The backups should be created automatically according to a predefined algorithm. We also recommend backing up virtual machines and databases if you are going to install new software, upgrade hardware or migrate data.

Testing data recovery systems. Conduct regular tests of data recovery systems from backups. Regardless of the reliability of your backup software, there is always a risk of errors that can lead to data loss. The more valuable the data you have to store, the more frequent tests are recommended.

Removing duplicated data. We recommend you avoid storing redundant data. This will allow you to use storage resources more efficiently and keep only changed data fragments.

The 3-2-1 rule. Aim to have at least three copies of data, and store them on two different media, including one of the copies on a separate site. This provides an additional layer of protection against the risk of data loss.
Backup based on Veeam Backup & Replication
Cloud4Y customers' storage is hosted on our cloud platform. It stores customer-uploaded documents and files. We use a reliable storage model with each file being duplicated in different racks and even different data centers. With this approach, the risk of data loss is minimal, even if a live server or multiple servers go down.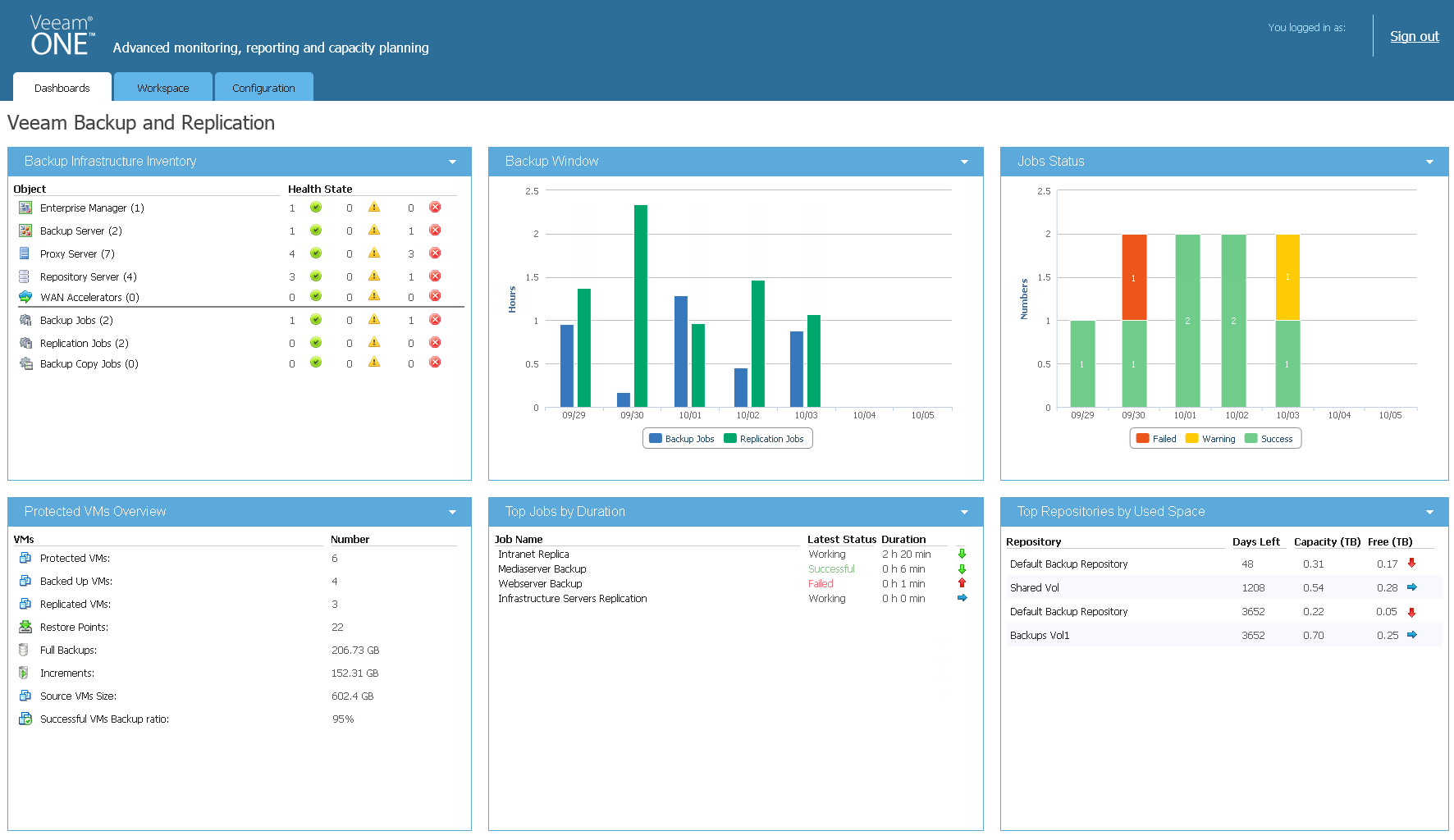 Veeam is integrated with VMware, which allows you to make backups easily and quickly without installing additional software. The product has an impressive list of features:
Creating backup and restore jobs directly from the management console.

Creating backups at the VM image level and taking into account the state of applications.

Backing up of running VMs using a simplified algorithm.

Incremental copying of individual VMs based on an already created backup job.

Recovery of an individual VM or the entire vApp, individual discs, and files.
Benefits of using Veeam Backup & Replication for backups
Veeam Backup & Replication is a solution that efficiently backs up, replicates, and restores virtualized applications and data. With this solution, you can quickly and reliably back up VMware and Hyper-V virtual machines without using agents inside virtual machines. Veeam Backup & Replication speeds up the backup process and reduces data storage costs.
There are three main benefits that companies get from using cloud solutions and Veeam Backup & Replication technologies.
Reduced RTO and RPO due to high recovery speed and reduced risk of failure.
Reduced capital expenditures on hardware and its operation by using the cloud platform.
Lower software costs by using a lease-based license scheme.
In general, Veeam Backup & Replication is a convenient and user-friendly tool that allows you to connect to a cloud provider's remote backup facilities and perform cloud backups.