Disaster recovery (DR) and High Availability (HA) are both important to businesses and perfectly complement each other to help companies reduce the risk of financial and reputational losses in the event of IT incidents. Often these two solutions are confused or even considered mutually exclusive. However, this is not true. In this article, we will explain what DR and HA have in common and what makes them different.
What is Disaster Recovery
In the event of a failure, every minute of downtime costs the company both financially and in terms of reputation. The bigger the company, the greater the loss. It is no wonder that business continuity is a high priority for business leaders.
We have discussed high availability before, but what should you do if a failure does occur? This is when disaster recovery solutions come into play. They quickly get all systems back up and running. Nevertheless, in order to achieve rapid recovery, you need to determine at the planning stage how to achieve a resumption of availability in the event of a failure caused by human, technological, natural, or other factors
The concept of Disaster Recovery involves the creation of a detailed disaster recovery plan (DRP) that enables an organization to maintain and quickly restore critical operations after a disruption.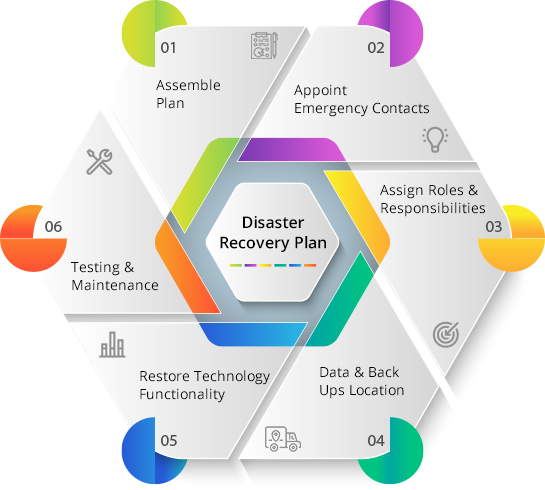 In short, the Disaster Recovery Plan involves creating a backup infrastructure (e.g. in Cloud4Y) but in a different data center. This is where copies of all critical systems are stored. In the event of a disaster, the backup infrastructure takes on the load, keeping business processes running. Customers may not even notice a failure.
What is High Availability
High Availability means that all IT systems in a company are highly available and fault-tolerant. In other words, the infrastructure and its components continue to work even if some of the elements fail or withstand a load that is much higher than expected.
There are many ways to provide High Availability. One of the key metrics for the reliability of a HA system is downtime. This is usually specified in the contract and measured in percentages. For example, a 99.9% availability level means that the system can unavailable for about 8.77 hours per year, 43.83 minutes per month, or 1.44 minutes per day.
High Availability also involves careful planning during the design phase of IT systems. In the process, various incident scenarios are tested, including natural disasters, fires, etc. The infrastructure, necessary to ensure resilience is duplicated. Additional software and hardware are used to keep the system running in the event of a failure. Also, methods of clustering, availability zones, and other approaches help to achieve high availability of IT systems.
Thus, every key node in the system that can fail receives a redundant component. In addition, if the primary one fails, its tasks are handled by the backup, which eliminates or reduces downtime.
Note that the higher the level of availability, the more expensive the infrastructure and maintenance costs.
Conclusions
To sum up Disaster Recovery and High Availability work together holistically and in many ways they are not the same or self-sufficient solutions.

Failover solutions that provide high availability for IT systems allow for recovery from one-time and unrelated failures of single nodes. The approach implies that redundant components of failed systems are activated or the load is redistributed between the running systems.

Disaster Recovery systems are designed to preserve data and continue operations during a massive system failure or chain of failures. The concept involves assessing the dependencies of subsystems and the ability of the infrastructure to respond to different incident scenarios, including a disaster scenario, with the goal of achieving the highest possible safety of protected systems and stored data.

Cloud4Y offers reliable and proven disaster recovery and high availability solutions to protect your business. For more details, please contact our managers.